The stagnation of rents for warehousing premises also slows down development of this sector
2016-11-24
Assessing the general development trends of commercial property in Lithuania, it can be seen that currently the eyes of commercial property developers are essentially focused on only certain segments and certain cities – Vilnius and Kaunas. In Vilnius, the office and hotel segments are the subjects of special attention, whereas in Kaunas, it seems that there is a real boom in the construction of office projects. In other regions of the country, investments in the development of commercial property are substantially scarcer – generally, we see the construction of grocery and construction materials' shops, as well as the renovation of already-existing shopping centres or a few industrial purpose projects in the free economic zones of Lithuania. Seeing that the number of commercial projects developed for market needs (seeking to lease or sell them) depends directly on the economic prospects of the regions, it makes sense that recently developers have been concentrating their investments on the centres of the strongest regions and we are unlikely to see this trend changing in the short run.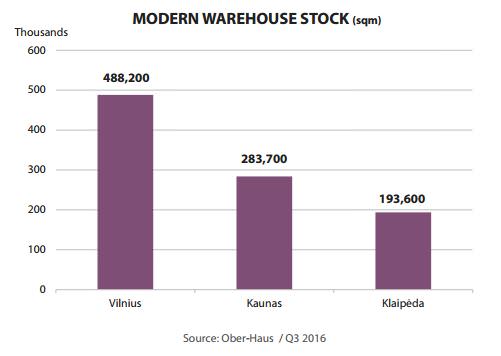 For the last five years, the warehousing and logistics sector has been and remains one of the "neglected" real property segments among developers. The rather uncertain demand for warehousing premises, specific requirements of tenants (location and technical parameters of the building) as well as the slow down in the growth of rents fail to create favourable conditions for developers to plan new projects. However, financial indicators of this sector, at least recently, have been stable. According to the data of Statistics Lithuania, during the first six months of 2016, sales revenues of warehousing and storage companies (excluding VAT) amounted to EUR 60.8 million or respectively 0.3% and 10.1% more compared to the same period of 2015 and 2014. Nevertheless, comparison of the indicators for the first half of this year with the same period of 2012–2013 shows that sales revenues of warehousing and storage companies have fallen by 14% on average.
"However, as property developers view this sector indifferently, it cannot be said that the development of warehousing buildings has stopped altogether: financially stronger companies implement projects that meet their needs themselves," says Saulius Vagonis, Head of Valuation & Analysis at Ober-Haus. Over the nine months of 2016, six new warehousing projects have been built in Vilnius, Kaunas and Klaipėda regions, with the total warehouse area comprising approximately 33,200 sqm. The largest number of projects were implemented in Vilnius region (Layher Baltic, Litcargus, Woodline, and Wirtgen Lietuva) and the total area of warehousing premises at the end of the third quarter of this year increased to 488,200 sqm. In the middle of this year, Volfas Engelman brewery opened a warehouse for its products in Kaunas, thus increasing the total area of warehousing premises in this city to 283,700 sqm. The largest warehousing project was implemented this year in Klaipėda district – a warehouse of 17,500 sqm with office premises was constructed by VPA Logistics, and the total area of warehousing premises in Klaipėda region went up to 193,600 sqm. Four of those projects were built and intended exclusively for the needs of the companies engaged in their development.
In 2017, at least 3 larger warehousing projects (or their stages) with a total area of 34,000 sqm should be implemented in Vilnius. These projects are being developed by Baltic Sea Properties, Ad Rem and Sirin Development. In the meantime, in Kaunas, a logistics centre for Aibė, the trading companies alliance, is under construction with the opening planned for July 2017.
Over the last 12 months, the rents of new and old warehousing premises in Vilnius region have increased by only 2-3%, whereas in Kaunas and Klaipėda regions the rents of warehousing premises remained unchanged. According to Ober-Haus, at present, warehousing premises of new construction in Vilnius are offered for rent at 3.7–5.2 EUR/sqm, old construction – at 1.6–3.0 EUR/sqm. In Kaunas, new warehouses are offered at 3.5–5.0 EUR/sqm, old ones – 1.5–3.0 EUR/sqm, while in Klaipėda new warehouses go for 3.4–4.7 EUR/sqm, old ones – 1.4–3.0 EUR/sqm. The stagnation of rents for warehousing premises also slows down the more active development of this sector. "The rapid rebound of rents of new warehouses from the latest lowest level in 2010 has been notably slower in recent years. From the end of 2014 (for almost two years) the rents of new warehousing premises in Vilnius, Kaunas and Klaipėda regions have increased on average by 3-4%. In contrast, rents of office and retail premises in the same regions over the same period increased by 8–10% on average," says S. Vagonis.
Lithuania Commercial Market Commentary Q3 2016