Increase in apartment sales prices in 2021: annual growth reached 22.4 %, average annual – 14.2 %
2022-01-10
The value of the Ober-Haus Apartment Price Index in Lithuania, which records changes in apartment prices in the five main cities of Lithuania (Vilnius, Kaunas, Klaipėda, Šiauliai and Panevėžys), rose by 1.1% in December 2021 (growth in November 2021 was 1.7%). In general, apartment prices in the main Lithuanian cities have increased by 22.4% over the last 12 months (annual growth in November 2021 was 22.2%). The average annual growth in apartment prices in 2021 was 14.2% (January-December 2021 compared to January-December 2020).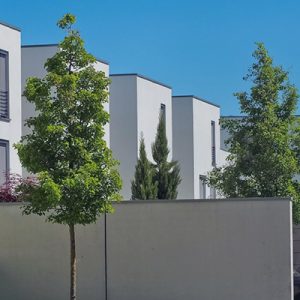 In December 2021, apartment sales prices grew by 1.1% in the capital city and the average price per square metre reached EUR 2,087 (+EUR 22/m²). In December, Kaunas, Klaipėda, Šiauliai and Panevėžys recorded increases in apartment prices of 1.3%, 1.2%, 0.5% and 0.9% respectively and the average price per square metre increased to EUR 1,461 (+ EUR 19 /m²), EUR 1,393 (+ EUR 16 /m²), EUR 930 (+ EUR 5/m²) and EUR 915 (+ EUR 8 /m²) respectively.
Annual growth (December 2021 compared to December 2020) in the sales prices of apartments increased in all the main cities of the country: 23.3% – in Vilnius, 23.0% – in Kaunas, 19.4% – in Klaipėda, 20.8% – in Šiauliai and 21.2% – in Panevėžys.
"Data of December 2021 confirmed what we observed throughout last year – stable rapid growth in apartment prices throughout the country. Last year, buyers were purchasing various types of housing like never before and spent a record amount of money to this end. It is therefore no surprise that we recorded fast growth in housing prices and that the 14.2% average annual apartment price growth rate in the main cities was truly considerable. The last time average annual apartment price growth in Lithuania's main cities was faster was back in 2004 (25.7%), 2005 (47.8%), 2006 (36.9%) and 2007 (26.9%). Meanwhile, in the period from 2016 to 2020, the growth of apartment sales prices was much more moderate and stood at 3.3–5.7%.
The major factors contributing to the heating up of the housing market include the rapidly rising incomes of residents, low mortgage interest rates, lack of new housing supply, and desire to protect savings in a high inflation environment by investing in real estate, these will remain relevant in 2022 as well. However, this year new factors which might both slow down activity in the market and the pace of growth in housing prices may emerge. The first reason is the growing unfavourable geopolitical situation. The increasingly tense and changed economic relationship between Lithuania and Belarus, and China might have a negative impact on Lithuania's economy and lead to a lowering of residents' expectations regarding their financial situation and the prospects of the country's economic development. Secondly, following the extremely steep jump in housing prices in 2021 and the evidently higher price level which caused a decrease in the housing affordability indicator, one might expect a relatively more moderate pace of price growth and reduced optimism of market participants than before. The rapid growth in housing prices was mainly contributed to by the positive expectations which seized the housing market last year. Seeing the stable and fast-growing prices sellers were determined to sell for even higher prices than the actual market price at the time. For this reason, in 2022, we might expect a more moderate atmosphere in the housing market and slower growth in real estate prices than the previous year", Raimondas Reginis, Head of Market Research for Baltic Countries at Ober-Haus, noted.